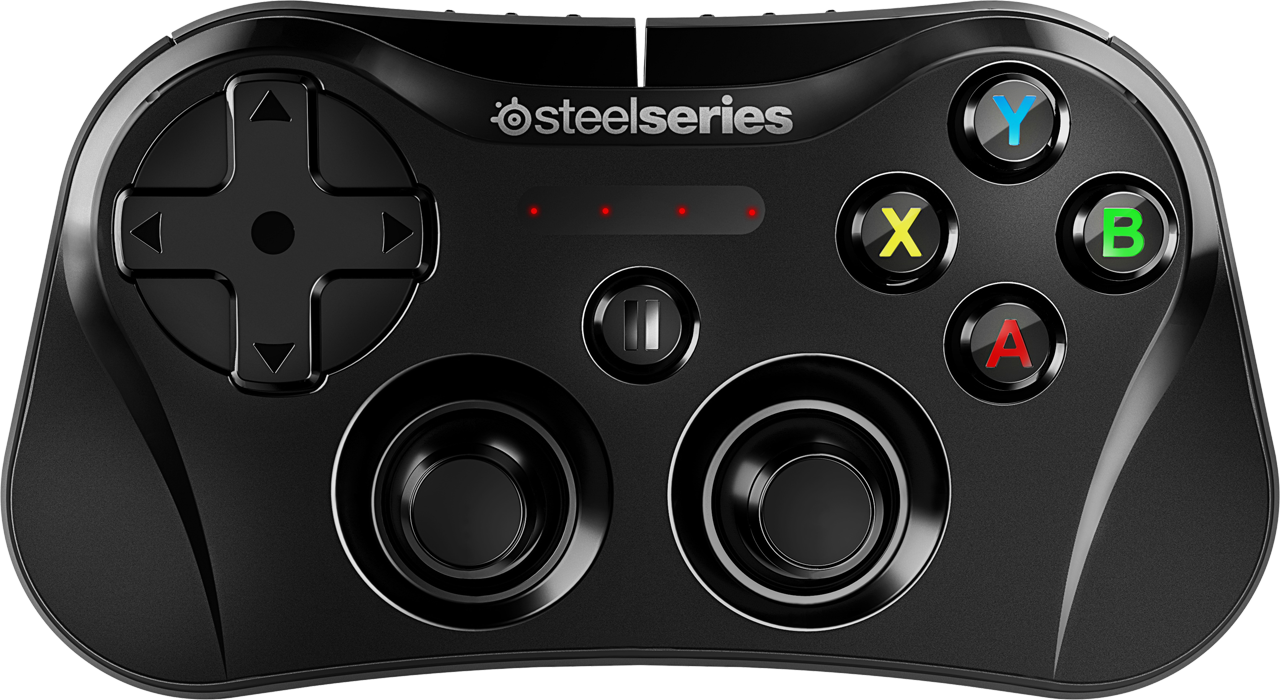 The SteelSeries Stratus controller is an Extended layout iPhone and iPad game controller produced by SteelSeries.
As per the Extended MFi controller layout specifications, the Stratus features 4 face buttons, a d-pad, left and right shoulder buttons, 2 analog sticks, 2 triggers, and a pause button. The face buttons, shoulder buttons, triggers, analog sticks, and d-pad are all pressure sensitive.
The SteelSeries Stratus connects to the iPhone and iPad via Bluetooth, and is compatible with the iPhone 5, iPhone 5C, iPhone 5S, iPhone 6, iPhone 6 Plus, iPad 4, iPad Mini (1,2, & 3), iPad Air (1 & 2), and iPod Touch (5th Gen). Due to Apple's policies, the Stratus XL is not compatible with any iPhone or iPads that do not have a Lightning port.
History
SteelSeries is a well-known PC gaming hardware manufacturer with a respected line of mouse, keyboard, and headphone peripherals. SteelSeries has released an earlier iPhone controller, the Free Mobile controller, which predated Apple's MFi controller program, and is not compatible with MFi controller compatible games.
The SteelSeries Stratus was the first MFi controller released after the 2013 holiday shopping season, hitting store shelves in February of 2014. It is the first Bluetooth controller and the first controller with official iPad compatibility.
Firmware Update
Early Stratus controllers shipped with a firmware bug where pressing the face buttons or analog triggers while holding the d-pad caused a noticeable delay in the button presses registering. New controllers should ship with an updated firmware, but old controllers will need to be manually updated.
A firmware update guide for Mac and PC is available here:
SteelSeries Stratus Firmware Update Guide
Compatible Games
A complete list of all games compatible with MFi game controllers, including the SteelSeries Stratus, is available here: MFi Controller Compatible Game List
Buy Now