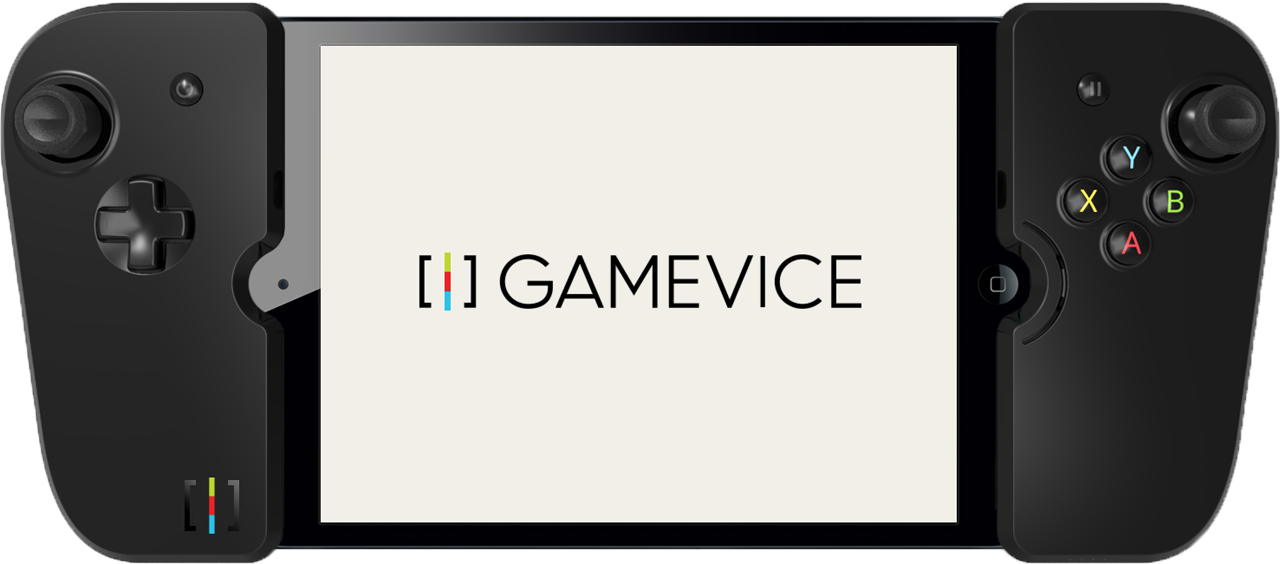 Update

AfterPad now has an exclusive hands-on preview of the Gamevice!
The Gamevice is an Extended layout iPad game controller produced by Wikipad.
As per the Extended MFi controller layout specifications, the Gamevice features 4 face buttons, a d-pad, left and right shoulder buttons, left and right triggers, 2 analog sticks, and a pause button. The face buttons, shoulder buttons, triggers, analog sticks, and d-pad are all pressure sensitive.
The Gamevice connects to the iPad via Lightning. Separate versions will be made available for the iPad Mini and iPad Air product lines.
The Gamevice is powered by an integrated battery, and lasts about the same on a charge as the iPad itself. Charging the Gamevice with the iPad connected will also power the iPad at the same time.
A version of the Gamevice with an integrated wireless hotspot is planned for a later date.
History
Wikipad, the creator of the Gamevice, is a well regarded Android hardware manufacturer. Their eponymous Wikipad is a 7-inch Android gaming tablet with an included controller very similar to this one. They have also released a detachable Android tablet controller also known as the Gamevice. Wikipad's products are generally regarded as high quality, and hands-on impressions of this Gamevice controller from E3 are positive.
After spending a significant amount of time with multiple Gamevice controller prototypes and models, my own thoughts are very similarly positive.
Preview
I've put together an extensive preview of the Gamevice for AfterPad, based on months of extended use of prototype models.
A full review will come once the final version of the Gamevice is widely available, but my impressions at this time are extremely positive.
Compatible Games
A complete list of all games compatible with MFi game controllers, including the Gamevice, is available here on AfterPad: MFi Controller Compatible Game List