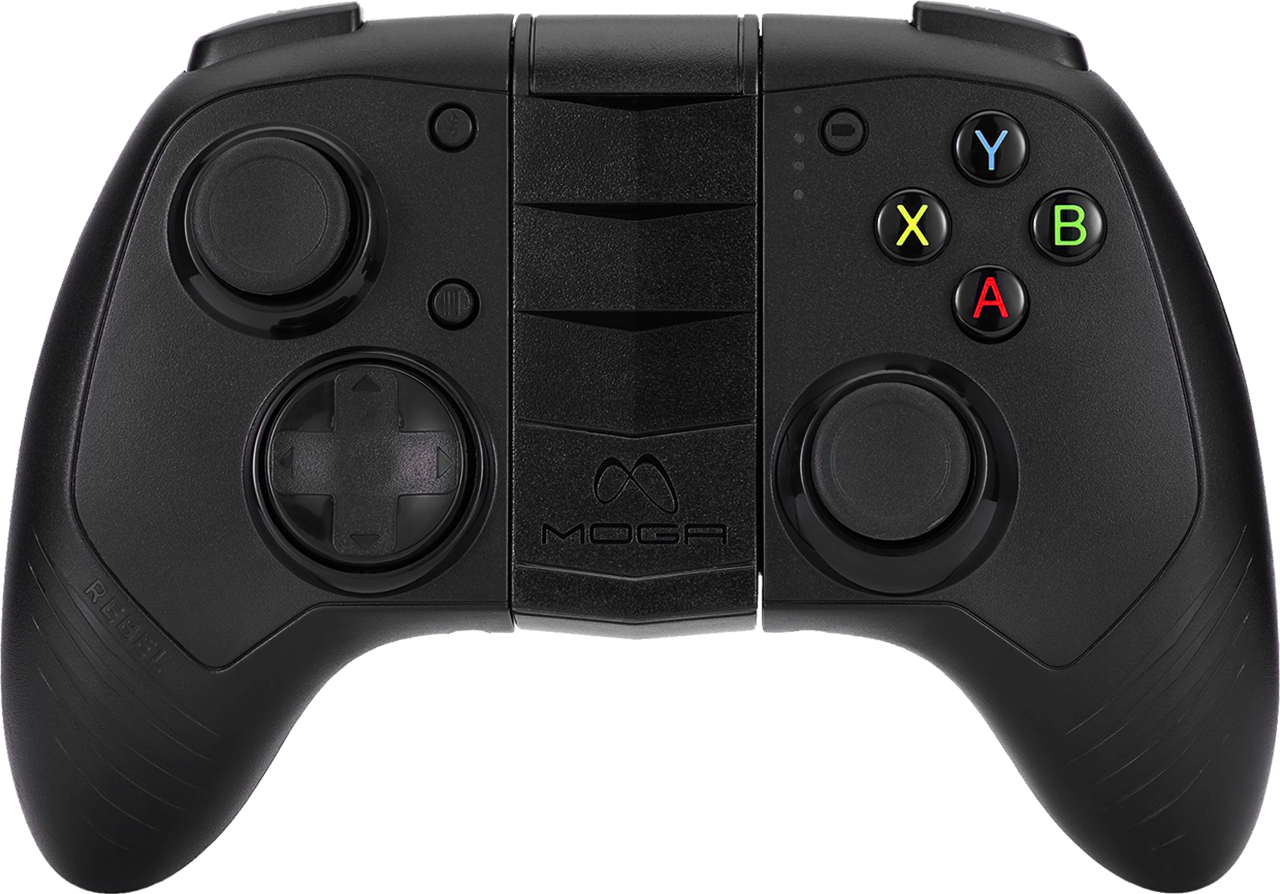 The Moga Rebel controller is an Extended layout iPhone and iPad game controller produced by Moga.
As per the Extended MFi controller layout specifications, the Rebel features 4 face buttons, a d-pad, 2 left and 2 right shoulder buttons, 2 analog sticks, and a pause button. The face buttons, shoulder buttons, analog sticks, and d-pad are all pressure sensitive.
The Moga Rebel connects to the iPhone and iPad via Bluetooth, and is compatible with the iPhone 5, iPhone 5C, iPhone 5S, iPhone 6, iPhone 6 Plus, iPad 4, iPad Mini (1,2, & 3), iPad Air (1 & 2), and iPod Touch (5th Gen). Due to Apple's policies, the Rebel is not compatible with any iPhone or iPads that do not have a Lightning port.
An iPhone grip is integrated into the Rebel, and runs down the center of the front face of the controller. The grip is large enough to support all available iPhone models, but will not hold an iPad Mini.
The Rebel is powered by an internal rechargeable battery which can be reloaded with the included Micro USB cable. Unlike the equivalent Android controller by MOGA, the Rebel cannot charge the iPhone over USB.
History
MOGA has a long history developing game controllers for Android phones, with at least 4 models of Android controller released. MOGA's parent company Power-A makes a wide variety of cheap console controllers under their own name, as well as white labeled controllers for other brands.
Moga released the Moga Ace Power - the first commercially available MFi controller - in October of 2013. While the Ace Power was a functional and comfortable controller, it suffered from some general weaknesses in its overall build quality and component stability. This is likely due to it being a brand new design Moga created and released in time for the 2013 holiday season.
The Rebel is not quite as rushed as the Ace Power was. It is based on the long-available Moga Pro Power Android controller, mixed with some of the components from the original Ace Power design, and presumably refined further.
After undergoing significant delays due to the restructuring of the MOGA company, the Rebel was finally released on September 17th, 2014, becoming the very first full-size Bluetooth MFi controller available.
Almost immediately after release, significant problems were discovered with the Rebel. Games would randomly disconnect and reconnect from the controller, especially under iOS 8 and later. Moga has issued no comment on it - in fact, Moga seems to have gone out of business. Perhaps for both of these reasons, Apple pulled the Rebel from their stores a few months after it went on sale.
Compatible Games
A complete list of all games compatible with MFi game controllers, including the Moga Rebel, is available here on AfterPad: MFi Controller Compatible Game List
Buy Now